And now for the queen Diva herself, Hatsune Miku.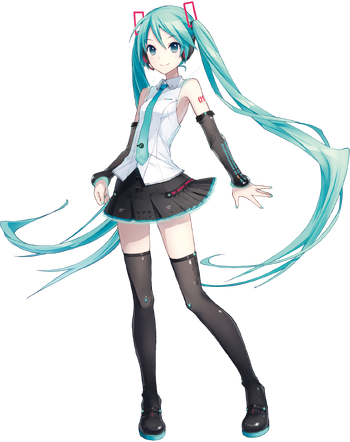 First released back in July 31, 2007, Miku history is one of one very lucky break and one huge success that has since become a staple of both the Japanese culture and of it's economy. Where as her elder siblings MEIKO and KAITO were created by Yamaha and distributed by Crypton Future Media, Miku was the very first Vocaloid produced solely by Crypton; due to this fact, and as a way of distancing her from the bad history if her siblings (checks bios above), she was made into a brand new line of Vocaloid called the Character Vocal Series, thus making her code CV01. Her voice provider is the famous voice actress Saika Fujita who since her debut in 2005 has done the voices of characters like Ymir from Attack on Titan, Mahiru Inami from Working!!, and Ritsu from Assassination Classroom (that last one is kinda funny considering that Ritsu is an A.I.). She was the very fits Vocaloid designed by the great Illustrator KEI Garou who would later go on to designed the Kagamine twins, Luka, Lily, and Galaco. The concept of her creation was to create a voice that would reach down from the future, hence her Hatsune Miku, the first sound from the future.
As stated, Miku's road to success started like all other vocaloids before her. Much like her siblings and other predecessors, her initial marketing was pretty standard and not much was expected from her. Her initial sales however told otherwise. With her sales in the 12 days alone reached over 3,000 units, something that was considered unimaginable for Vocaloids at the time; for perspective, it was believed that the sale of just 1,000 units was good business. All this however, did not mean much for her popularity as Vocaloids were still very unknown. This all changed in in September 4, 2007 when the great producer Otomania released Ievan Polkka to the world. The video was an immediate success and led to many producers in Nico Nico Douga to quickly begin on their own works. IN September 20, 2007 Miku Miku ni Shinji Ageru♪ (Shinji Yan yo) by ika was released and became the second great footnote in Miku's history as being the very first Vocaloid song ever to reach over 1,000,000 views on Nico Nico Douga.
Since that time, Miku has seen an explosion in popularity, gaining favor both at home and overseas. In 2014, a research lead Nomura Research Institute found that sales of Hatsune Miku branded goods alone made up an economic sale of ¥10,000,000,000 (about $88,335,000 adjusted for inflation) since 2007, making Miku an increasingly leading brand in the Japanese economy, Since her great success, the popularity of Vocaloids overall have grown greatly and her influence has reached over future Vocaloid, even those not from Crypton Future Media.
With her great popularity, also came many attributes that although not canon according to Crypton Future Media, are widely accepted by the fandom. Her character item is of course the Negi. Although that was a bit of a fight during item meme wars, her blue-green striped pantsus were decided on very democratically (do not kill the messenger). As for her personality, although she is considered the perfect blank slate for producers to make her out to be whatever they want her to, outside of it the fandom normally sees her as one who does everything for the chance to sing. She is though of being one to push through any labor to sing, even accepting road work signs with her on it merely as her either making cash for her next gig or building the stage herself.
ALthough there is much more we can say about her and her road to success, lets just end it here before I have to write an entire book. Look forward to the next two weeks full of great Miku songs until I'm forced back and chained into labor. Later.