Bermuda Triangle: Colorful Pastrale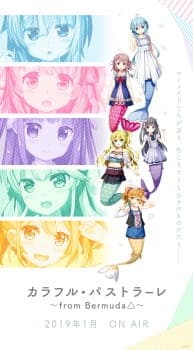 Plot
:
Daily life for mermaids come with everyday issues. Follow the adventures of five young mermaids as they explore their town and the world around them in this delightful slice-of-life series that takes viewers to an enchanting world beneath the waves. - HIDIVE
Legal Streaming
:
North America, Central America, South America, United Kingdom, Ireland, Australia, New Zealand, South Africa, Guyana, Turkey, Netherlands, and Scandinavia -
https://www.hidive.com/tv/bermuda-triangle-colorful-pastrale
Original creators listed below as this in an original anime.
Director
: Junji Nishimura
Studio
: Seven Arcs Pictures
Genres
: Music, and Fantasy
Duration
: ???*
*Missing info will be added once known.